News
On this page you will find information about events that are happening each week in our school. Don't forget to check it regularly!
Otter Class did a very interesting and informative assembly about Remembrance. They told us why we commemorate Remembrance Day which is on 11th November, they read some poems and sang some very patriotic hymns.
A very big well done to Otters!
Miss Wiles looking very brave prior to her skydive. She raised over £800 for the Drew Barker-Wright charity.
Very well done!
Chocolate Sale in School!
Chelsea from Otter Class made some delicious chocolates and sweets to sell at school with the proceeds going to a Cancer Charity. She made a profit of £80 which is amazing! Very well done to Chelsea and thank you to everyone who bought some of her tasty wares.
A big well done to everyone who received a certificate this week and also to anyone celebrating a birthday.
Some guests from The Trinity Rotary Club came to an assembly and kindly donated and presented Year 5's with a dictionary.
Goodbye and thank you to Mrs Gonsalves.
We are all very sad to see Mrs. Gonsalves leave our lovely school. In a special assembly Mrs. Gonsalves was given a gift to remind her of her eleven years at Tilney! Even though we will miss her greatly, we wish her a very
Happy Retirement!
The members of the cookery club were presented with an 'Amazing Chef' certificate.
Very well done to Chloe, Jenson, Lily and Abby who have been awarded with a gift card and special badge for 100% attendance for the school year 2018-2019.
We are very proud of Night Zookeeper Molly and Night Zookeeper Aran who have had their creations included in some episodes of the Night Zookeeper which is shown on SKY Kids. Buzz Burman, one of the founders and a former pupil of Tilney All Saints, came into school and did a workshop with the children. Buzz also explained how he got into graphical designing and some of the children found this very inspiring. Buzz enjoyed re-visiting our school as much as we enjoyed welcoming him back.
Well done to everyone who took part in our annual Sports Day events. Special congratulations to Blue House for being the overall winners.
A variety of races including sprint, relay and beanbag retrieve were organised for the children to partake in and lots of parents and friends
joined us for the occasion.
Rehearsal at 'The Minster' for 'Even You Song.'
Eleven children from Tilney All Saints and Anthony Curton took place in a contemporary composition of the 'Even You Song.' The performance took place at King's Lynn Minster where the children also sang with an adult choir of around twelve people.
Our Tilney Tennis Team: Molly, Ruby, Alfie and Jack attended the West Norfolk School Sports Partnership tennis finals event on 10th June. Mrs. Reed commented on how well the children represented the school and did themselves proud. Each player gave a great performance and it was a great experience for the children.
Otter Class taking part in the DEMAT Purple Day by learning about Body Image.
The children were making up poems, designing posters and drawing pictures promoting positive thoughts about themselves.
On 13th May on a very sunny afternoon, four children from Penguin Class took part in the Marshland Cluster tennis doubles competition. Six teams in all took part and it was a very fun and well organised event. We are very proud to say that we lifted the winner's cup and we are all extremely proud of Ruby, Molly, Alfie and Jack for their incredible achievement. Well done to you.
.Huge congratulations to Theo D, Oliver, Sam, Keegan, Lily D, Molly H, Isabelle and Questyne from Otter Class who came an admirable second in theCluster Netball Tournament at Marshland High School on Monday 29th April. Mrs Reed said that the behaviour of the children was fantastic and the success of the team was due to commitment and sportsmanship. Very well done!
Mr. Wilkinson brought his sheep and young lambs to school. He talked to all the schoolchildren about lambing, feeding and caring for the sheep.
The children really enjoying having the sheep visit school for the day.
The children enjoyed Mr. Laughton's assembly. ...
We all enjoyed taking part in the Easter Service at Tilney All Saints Parish Church. Well done to everyone who took part.
We were very pleased to receive this letter from Ofsted confirming that our school is still judged to be "Good". We had a one day inspection, which we felt was very thorough, but fair, and confirmed our judgments that Tilney All Saints school is a good school!
Please click here to go to Ofsted
We are very pleased with a letter we received from Tim Coulson, the regional schools' commissioner for the East of England and North East London. He wrote to us after we had a visit from the DfE, checking that we were still a "Good" school and that we had high standards. Some of the comments included:
"The teaching was purposeful and the pupils' attitudes to learning were strong. Books were well presented and showed good progress over time...Attendance in both schools is at or above national figures. Professional development has led to strong expertise in key areas."
"The pupils that were interviewed were very enthusiastic about the school and grateful for the high quality support they received."
"One girl was full of praise for the support the school had given to her disabled younger sibling. All had an unusually positive view of the schools. They appreciated taking part in mixed activities and really enjoyed their Friday afternoon joint sessions. Harmer admitted that a response to one of his questions had been unique and surprising. When asked what was best about the school, the first answer he received was "the homework". This turned out to be a reference to the creative activities the pupils are encouraged to undertake at home to extend their learning. His question about the ways the schools could be improved was the only one to stump them."
"These are two good schools that have developed through partnership and strong, committed leadership...the interest of working across both schools has made them an interesting place in which to work and develop."
World Book Day
Everyone looked amazing for world book day! The children also really enjoyed reading with their friends from the other classes.
Mark Norris from ALL4SPORTS visited our school on part of his 5,000 mile quest to raise money and awareness for Alzheimer's research.
He was calling in to all the schools that he teaches sport in. The children and the adults contributed to the cause.
Cluster Football
Congratulations to Theo Dennis, Summer Smith, Lily Dickson, Michael and Thomas Albert ,Chloe Campion, Shereese Reeve and Caoimhe Friel for being chosen to represent our school at this years cluster football tournament. Mrs Reed was extremely impressed with the team spirit and determination with which they played. Well done !! Go Tilney!!
Dogs Trust
Dogs trust came into school to see all of the children. The children thoroughly enjoyed it. They learnt how to be safe around dogs and how to treat dogs correctly.
Candlemas
The children thoroughly enjoyed the Candlemas service and a big thank you to Otter Class for their poems. All of the children behaved brilliantly.
Otter Class Homework
Take a look at Otter Class homework, it is all about animals. They have done a fantastic job and put so much effort into their pieces. Well Done!!
Well done to Penguin Class for their brilliant Assembly all about The Great Fire of London! They were all fantastic and a big thank you to all the parents and families who came to support the children.
The children enjoyed their Assembly all about Nelson Mandela!
We would like to congratulate Abby Bunting, Thomas Arthur Jagger and Alfie Jagger for qualifying for the West Norfolk school gala where they swam for the Marshland Cluster team. A thoroughly enjoyable morning, with all three swimmers competing fantastically. Well Done!
30th Anniversary!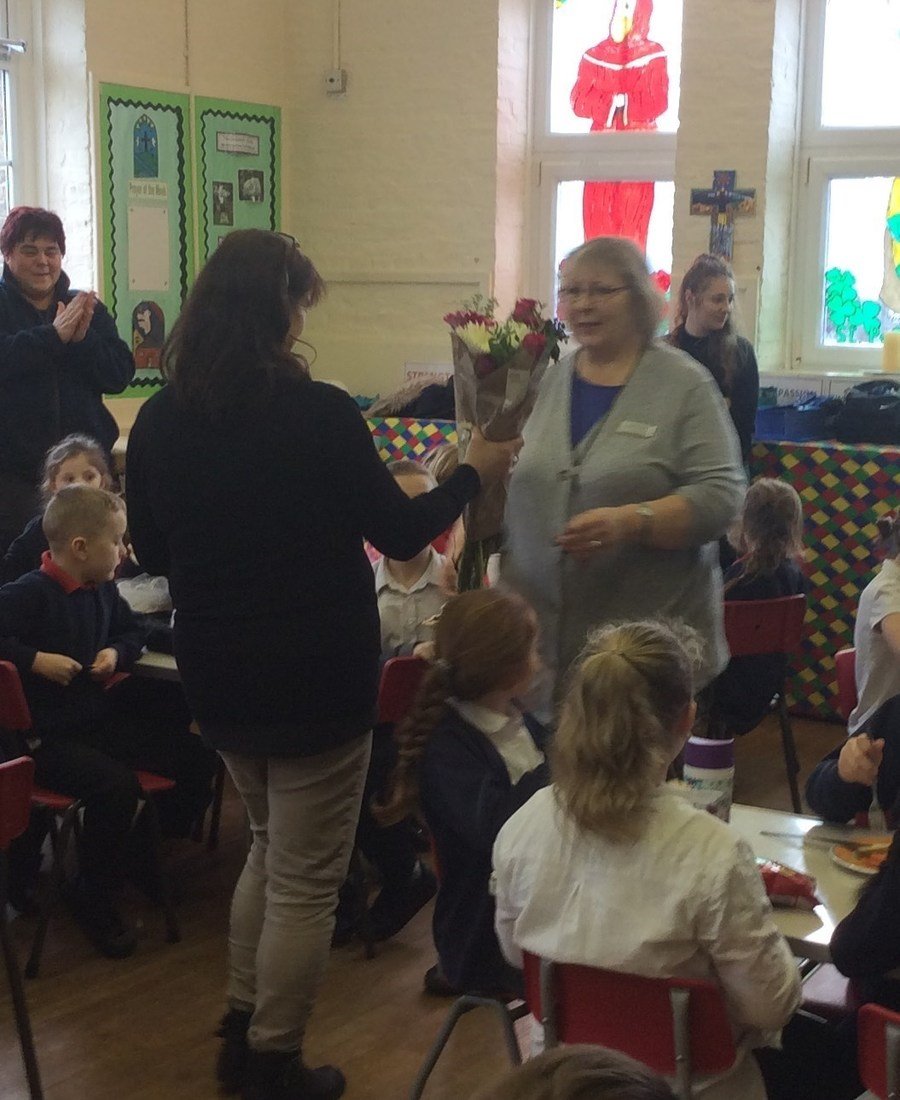 We all congratulated Sue Groves for reaching her 30th anniversary of working at Tilney All Saints Primary. She is a great asset to our team! Well Done!!
Well Done to Courtney Boswell in Dolphin Class for receiving a Head Teacher's Special Award for her brilliant efforts with her reading and writing!
Children in Need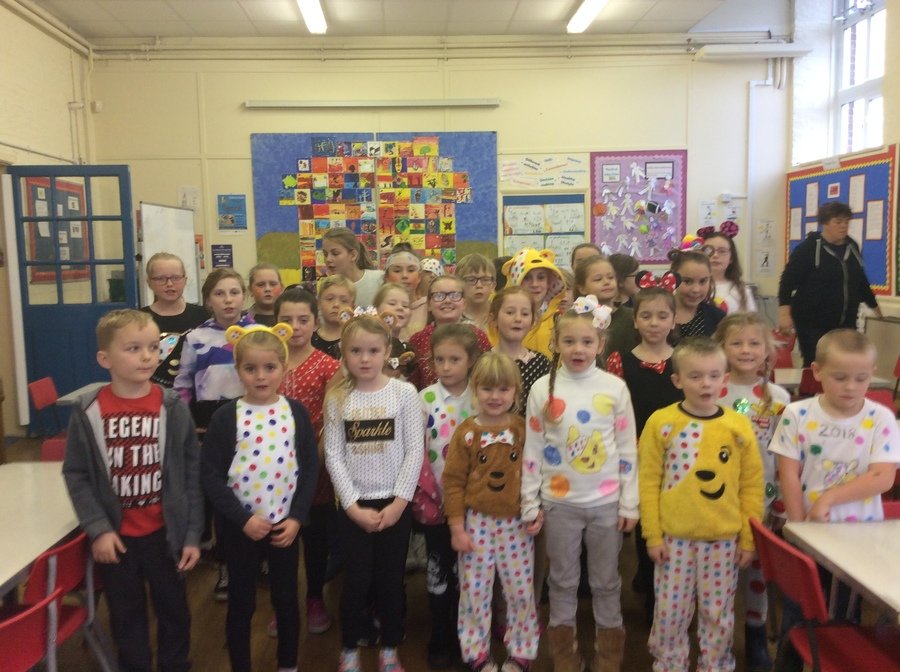 We all had great fun dressing up in spots for Children in Need. A huge well done and thank you to all, we raised £122.50.
Children In Need Duck Race
Well done to our two winners of the Children in Need sweep stake duck race. Thank you to everyone who entered and all together with the non-uniform day we raised £122.50.
Remembrance Service
Well done to all the children for their brilliant readings and singing at our lovely Remembrance Service. The children showed a great amount of understanding and respect. Thank you to all the parents who came to show support too.
Harvest Festival
Well done to everyone for their hard work that was put into our lovely Harvest Festival service and a big thank you for all the food donations.
Penguin Class Trip
Penguin Class had a brilliant time at the Vivacity Museum, Peterborough learning more about the Romans.
Cross Country
On Monday 1st October, 20 children from Tilney took part in the cluster cross country competition. All runners made the school proud with some beating their places from last year. GO TILNEY!!!!