Year 6 from Tilney All Saints and Anthony Curton enjoyed a visit to Ely Cathedral.
Otter Class did an amazing performance of MacBeth for their parents and the rest of the school. They practised hard to learn their lines and also learnt some songs, which were all part of the performance. The children looked amazing in their costumes which added to the atmosphere of the play. Huge congratulations to everyone for a brilliant performance!
Some of Otter Class made puppets and put on a show about MacBeth.
Miss Williams gave Otter Class a challenge in an R.E. lesson. They were learning about The Wise Man and the Foolish Man from Matthew chapter 7 verses 24-27. The challenge was to build a bible stand using only twelve sticks and sticky tape. Some children built strong stands and others not so strong.
Otter Class had a wonderful trip to Holkham Hall to learn all about the science of farming.
Otter Class Reading Café - Some parents visited the reading café where the children took turns to read from 'The Girl of Ink and Stars.' Miss Williams asked lots of questions about the text and then the children, with help from their parents, wrote a continuation of the story.
Otter Class explored Tilney All Saints, West Walton, Walpole St. Peter, Terrington St. John and Marshland St. James along with Y6 from Anthony Curton to learn more about local legend Tom Hickathrift. They found Tom's grave in Tilney All Saints graveyard, discovered a candlestick in Terrington St. John that supposedly has Tom's fingerprint on and visited the tower at West Walton where Tom is said to have removed the tower from the church.
Otter Class have been learning all about Tom Hickathrift, a local legend.
They demonstrated a broom dance, learnt to Molly dance and sing some songs.
Phoebe's Dog Visits
As part of the homework all about animals the children could bring their pets in. Phoebe's dog came to visit otter class and they all loved it!
Brandy Visits Otter Class
Otter Class had a special visit from one of their class mates pets as their homework was all about animals. This is Brandy, the children thoroughly enjoyed meeting him.
Homework
Take a look at Otter Class homework all about animals. They have done a fantastic job and put so much effort into their pieces. Well Done!!
Otter Class Assembly
Well done to Otter Class for their brilliant assembly all about World War 2. Thank you to all the parents for supporting the children by coming to watch and for their costumes!
Well done to Questyne for her great efforts on the World cup homework and creating her very own football stadium. It is amazing!
Writing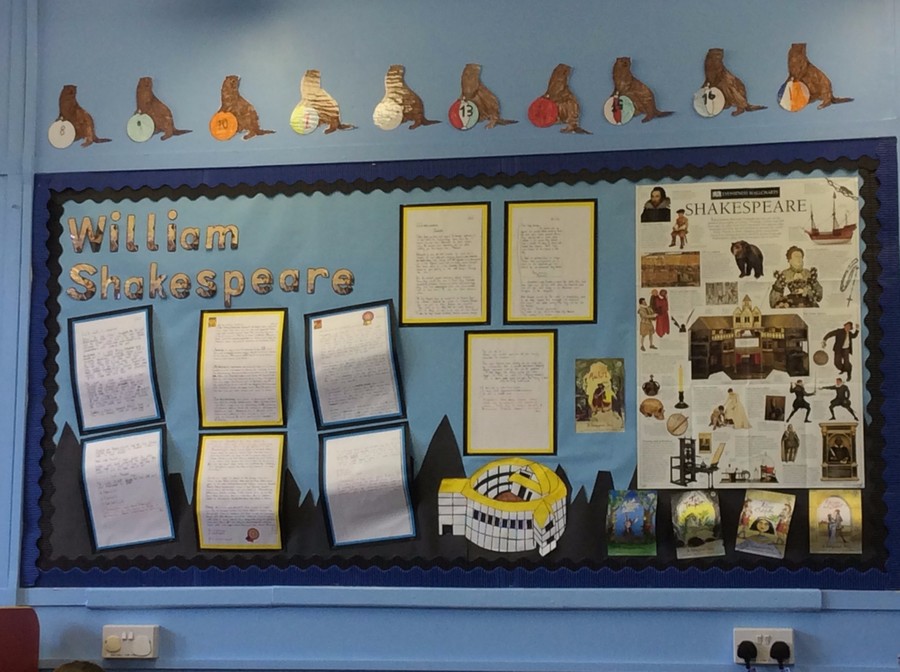 The children in Otter Class have produced some wonderful writing based on their topic of William Shakespeare. They have learnt all about the story of Macbeth, and retold it in their own words, and are now beginning to learn the story of Romeo and Juliet!