News
On this page you will find information about events that are happening each week in our school. Don't forget to check it regularly!
We were very pleased to receive this letter from Ofsted confirming that our school is still judged to be "Good". We had a one day inspection, which we felt was very thorough, but fair, and confirmed our judgments that Tilney All Saints school is a good school!
Please click here to go to Ofsted
We are very pleased with a letter we received from Tim Coulson, the regional schools' commissioner for the East of England and North East London. He wrote to us after we had a visit from the DfE, checking that we were still a "Good" school and that we had high standards. Some of the comments included:
"The teaching was purposeful and the pupils' attitudes to learning were strong. Books were well presented and showed good progress over time...Attendance in both schools is at or above national figures. Professional development has led to strong expertise in key areas."
"The pupils that were interviewed were very enthusiastic about the school and grateful for the high quality support they received."
"One girl was full of praise for the support the school had given to her disabled younger sibling. All had an unusually positive view of the schools. They appreciated taking part in mixed activities and really enjoyed their Friday afternoon joint sessions. Harmer admitted that a response to one of his questions had been unique and surprising. When asked what was best about the school, the first answer he received was "the homework". This turned out to be a reference to the creative activities the pupils are encouraged to undertake at home to extend their learning. His question about the ways the schools could be improved was the only one to stump them."
"These are two good schools that have developed through partnership and strong, committed leadership...the interest of working across both schools has made them an interesting place in which to work and develop."
30th Anniversary!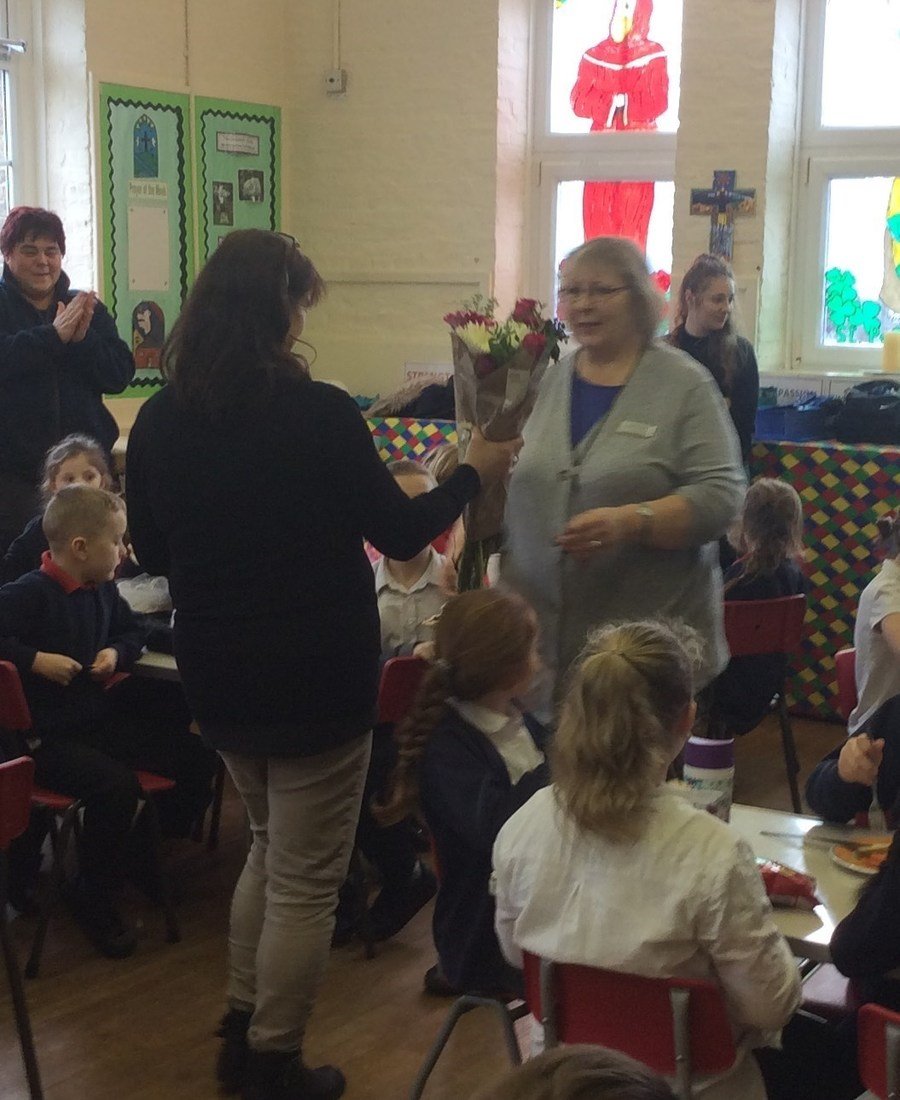 We all congratulated Sue Groves for reaching her 30th anniversary of working at Tilney All Saints Primary. She is a great asset to our team! Well Done!!
Head Teacher's Special Award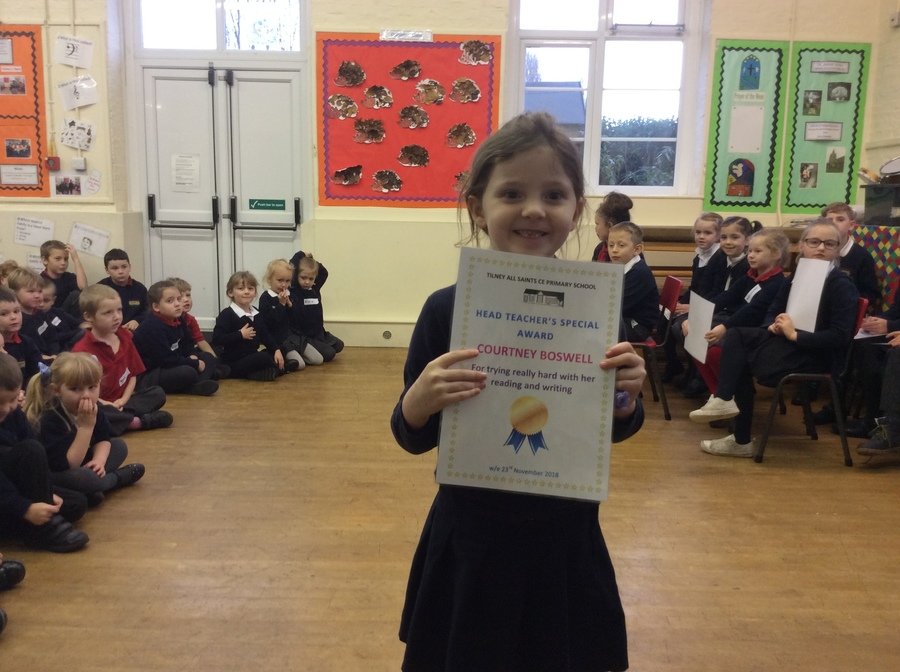 Well Done to Courtney Boswell in Dolphin Class for receiving a Head Teacher's Special Award for her brilliant efforts with her reading and writing!
Children in Need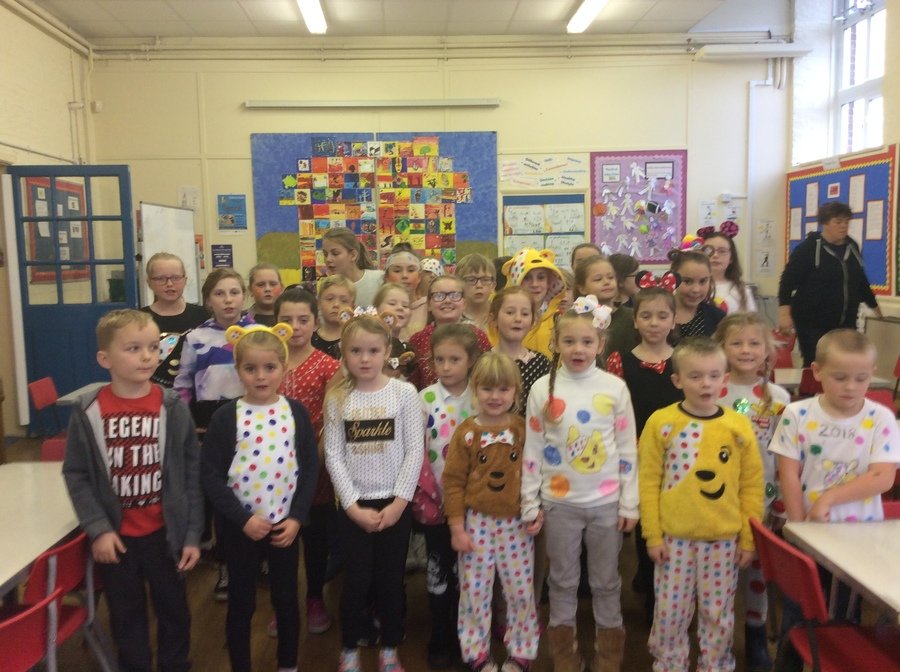 We all had great fun dressing up in spots for Children in Need. A huge well done and thank you to all, we raised £122.50.
Pantomine
All of the children and adults had a fantastic time at the pantomime watching Snow White. A huge thank you to FOSA it was amazing!!
Governors Christmas Assembly
The children thoroughly enjoyed Mr Laughton's Christmas Assembly all about the food we eat at Christmas time.
Children In Need Duck Race
Well done to our two winners of the Children in Need sweep stake duck race. Thank you to everyone who entered and all together with the non-uniform day we raised £122.50.
Rememberance Service
Well done to all the children for their brilliant readings and singing at our lovely Remembrance Service. The children showed a great amount of understanding and respect. Thank you to all the parents who came to show support too.
Otter Class Assembly
Well done to Otter Class for their brilliant assembly all about World War 2. Thank you to all the parents for supporting the children by coming to watch and for their costumes!
Penguin Class Assembly
Well done to Penguin class for their excellent assembly all about the Romans. They showed a brilliant understanding and that they have enjoyed learning this topic.
BJ Puppet Assembly
The children thoroughly enjoyed their BJ Puppet assembly.
Harvest Festival
Well done to everyone for their hard work that was put into our lovely Harvest Festival service and a big thank you for all the food donations.
Penguin Class Trip
Penguin Class had a brilliant time at the Vivacity Museum, Peterborough learning more about the Romans.
Cross Country
On Monday 1st October, 20 children from Tilney took part in the cluster cross country competition. All runners made the school proud with some beating their places from last year. GO TILNEY!!!!