Otters
Well done to Questyne for her great efforts on the World cup homework and creating her very own football stadium. It is amazing!
World cup Homework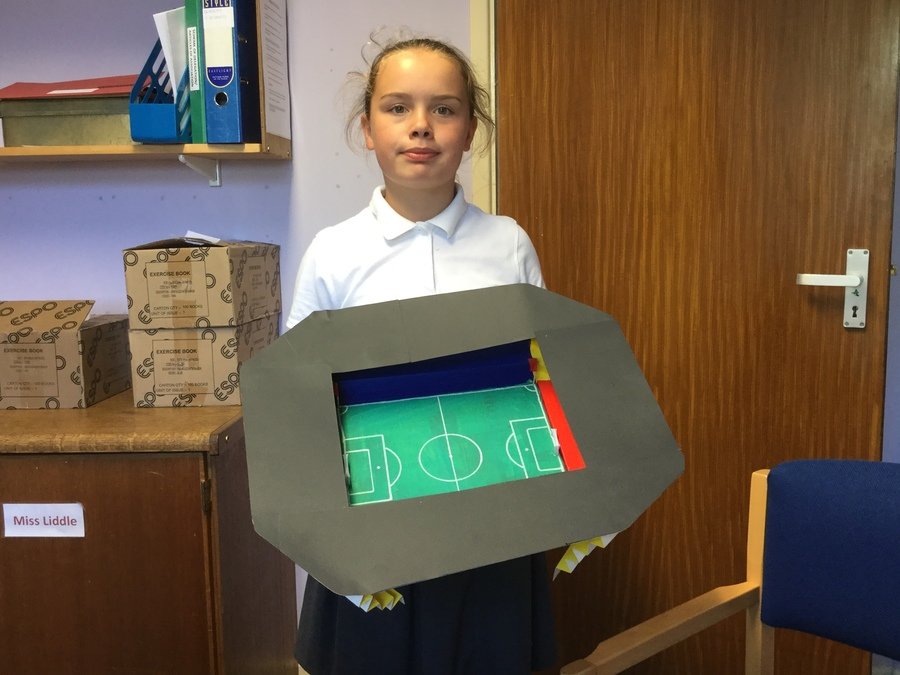 Well done to Otter Class for their brilliant assembly all about India. They enjoyed learning about this topic and performing what they had learnt. Everyone else thoroughly enjoying their performance too.
Otter Class Assembly
Otter class were excited to see Santa, thank you to FOSA for providing the gifts.
Otter Class Santa Visit
Otter Class working hard yesterday afternoon.
Otter Class presented an assembly all about the Anglo-Saxons. They had a great time sharing their extensive knowledge with the rest of the school and parents.
Otter Class Assembly
The children loved their trip to London to go and see "The Lion King"! We saw some of the famous landmarks and buildings of London as we entered our capital city and then went into the theatre to enjoy the show. The kids were, once again, brilliantly behaved and had a wonderful time!
The children in Otter Class have produced some wonderful writing based on their topic of William Shakespeare. They have learnt all about the story of Macbeth, and retold it in their own words, and are now beginning to learn the story of Romeo and Juliet!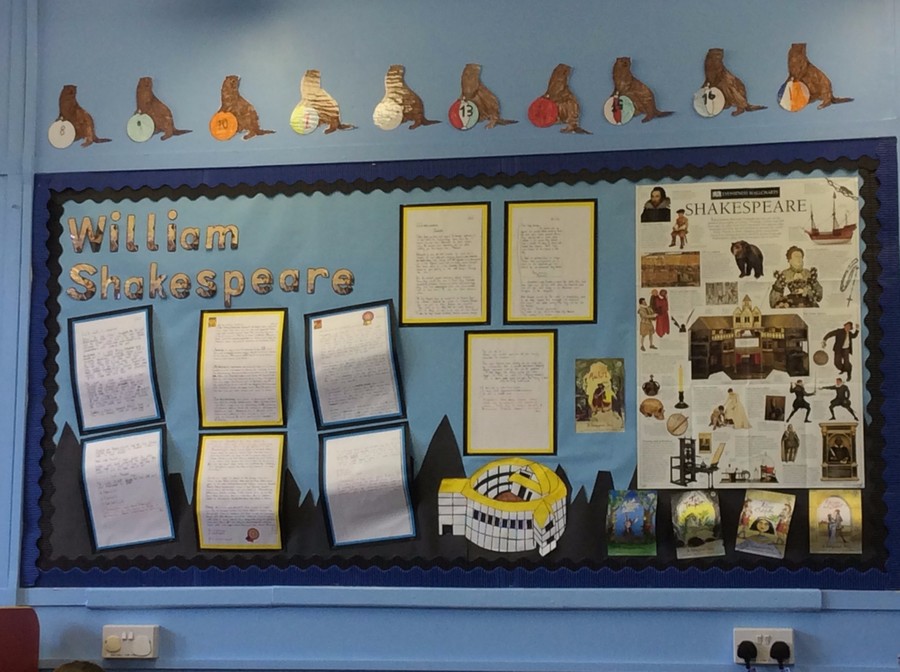 Children in Otter Class have been incredibly busy lately revising for their upcoming SATs. Miss Williams made it a lot of fun though by allowing them to write what they knew on the tables! The children have said that they really enjoyed doing their revision!
Both Otter Class and Year 6 from Anthony Curton got the chance to go on a "Hickathrift Tour". They went to all of the local villages where Tom Hickathrift was said to have lived and worked in, and looked for items that featured in the local legend.
Hickathrift Tour
We would like to welcome our newest member of Otter Class - Nibbles! We hope he'll be very happy in class with our children and will learn lots!
Nibbles!
Dolphin Class enjoyed Revd. Martin Dale coming in to see them and tell them all about Superbook. They got to learn about Bible stories through watching cartoons and discussing them!
Superbook
A massive thank you to Otter class who performed a very interesting and exciting assembly all about the local legend of Tom Hickathrift. It was very enjoyable to hear the story about this giant man, and the audience were even taken outside to see some traditional Molly dancing which originated from the Fens. It was also very nice to welcome some school council representatives from Anthony Curton who came over to watch the assembly and show their support for the children in their sister school.
Tom Hickathrift Assembly
Year 6 had a lovely time when they went over to Anthony Curton to join in with Enterprise Day. The children had an opportunity to experience what life might be like if they worked for a Newspaper company, having to work as a team deciding which stories they would include in their paper. The children faced many challenges throughout the day with stories changing as new notifications came in and time limits putting pressure on the teams. They all worked wonderfully together though and thoroughly enjoyed it!
Enterprise Day
Otter class had fun during their science lessons when they had to make circuits so that a Christmas picture would light up!
Otter Christmas Science
The children from Year 6 got to join their friends at Anthony Curton when they visited Ely Cathedral for Cathedral Day. The children learnt lots about different people all around the world and got to take part in some very exciting activities. There were hundreds of children there from lots of different schools, and we would like to congratulate all of our children from both schools on their exemplary behaviour - we wouldn't expect anything less!
Cathedral day
Below you can see some of Otter class using the computer equipment to do some research for their R.E. lesson. They were finding our all about how to become a Saint and also what makes a Christian saint.
R.E. Lessons
The Otters are super proud of the display in their classroom all about World War 2. They wrote some newspaper articles based on the story of Goodnight Mr. Tom, where a baby was left in a cupboard to survive on her own. It was only with the intervention of a kind old man, Mr. Tom, that the two children got the help they needed.
WW2 Display
Crucial Crew
Charly Spurge (c.spurge) on: Crucial Crew
Crucial crew was very fun and it helped me learn and remember many things that I had not known or had forgotten about safety. Myself and the rest of the year six children travelled to the old Norfolk fire station with the Anthony Curton year 6 children to participate in Crucial Crew. There were 9 different workshops we were able to participate in.These workshops ranged from; learning about the coastal guard and safety around coasts and beaches,to learning about rest centers and why you would go to one. I won't say any more as I might ruin it for children who haven't experienced it before. If you haven't experienced it before, let me tell you,you will most definitely enjoy it!
---
Otter class once again performed a wonderful assembly -the last one of the year! It was very informative all about the legends of Ancient Greece, the topic they have been studying in class. It was lovely to see the children talking so confidently in front of the audience and looking as though they really enjoyed learning about that topic.
Ancient Greece Assembly
Year 6 enjoyed a visit with their friends from Anthony Curton to Crucial Crew. They learnt all about different aspects of safety from the Police, Fire Brigade and Ambulance Service, amongst many others. It was a very enjoyable day - and very valuable to our youngsters!
Crucial Crew Visit
Year six gave a very informative assembly all about the Rain forest. They retold the story of The Great Kapok Tree and informed the audience how rain forests can be more sustainable. They also accompanied it with some lovely singing. Well done Otters - keep up the great work!
Rainforest Class Assembly
Year 6 had a lovely time when they went over to Anthony Curton for Enterprise Day. Classes from both schools worked hard in mixed teams to get a newspaper ready within deadline times. The major story was that a plane had crashed in Norwich and had ruined Norwich Cathedral and Carrow Road. The children worked together excellently and produced some really good front pages.
Newspaper Day
Otter Class had a brilliant time carrying out a traffic survey in the village in order to collect data for their upcoming maths lessons!
Traffic Survey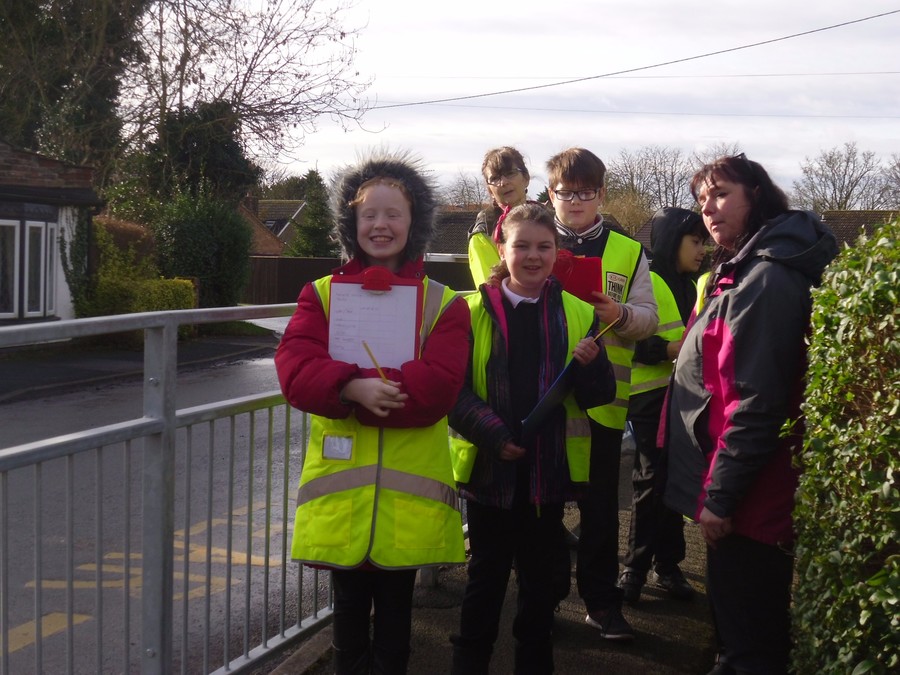 Otter class invited Reverend Barbara Pearman into their class to discuss what being a Christian means to her. She talked about what other Christians might look like and her views of religion, in order to help the children with their upcoming work in R.E. week.
A Vicar visits school